Valentia Island Dev. Co. CLG (VIDCO) submission to Draft Kenmare Municipal District Local Area Plan 2023-2029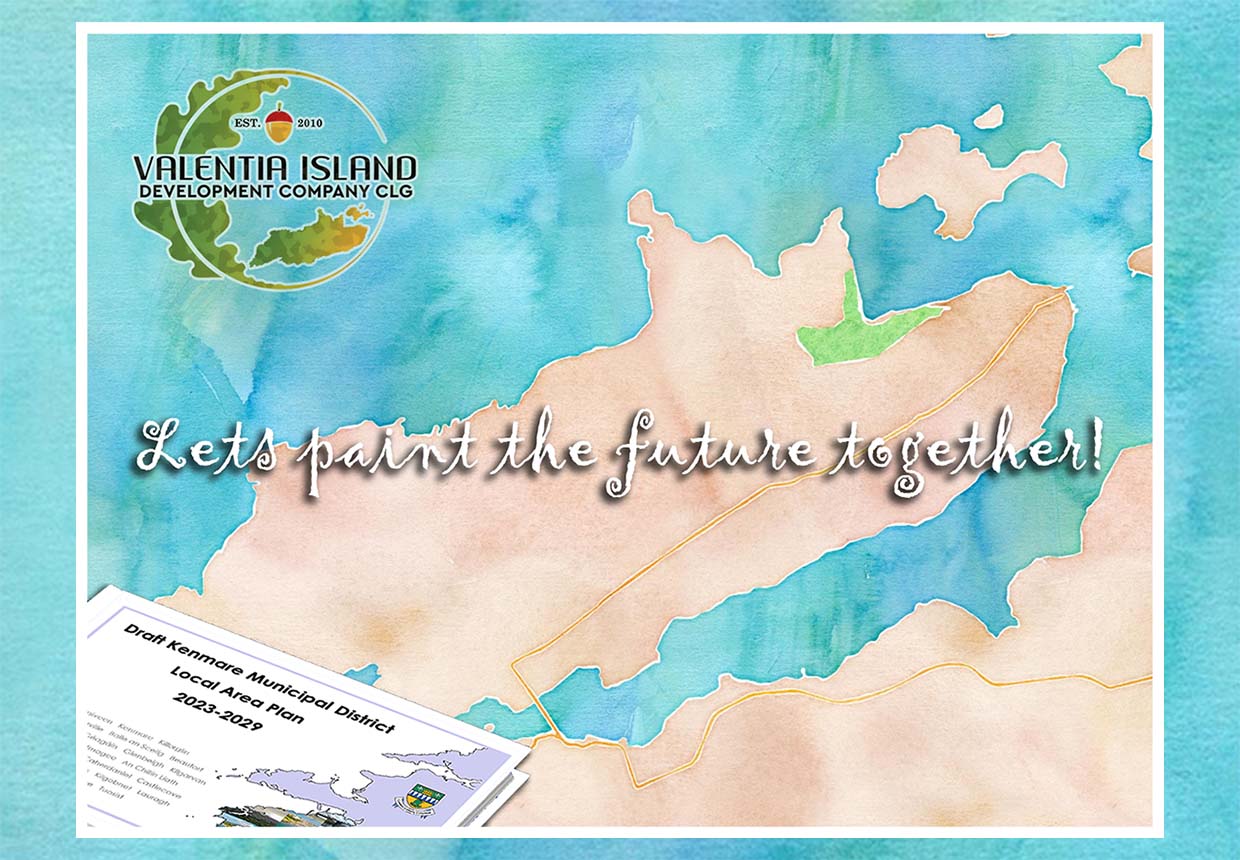 October 31, 2023

valentiaadmin
Valentia Island Development Company C.L.G. (VIDCo) was formed by a group of people from Valentia Island who were interested in promoting the Island and helping it to be developed in a sustainable way and to make it a better place for future generations to live, work and play. Our aim is to help prospective entrepreneurs from Valentia realise their goals and open as many doors as possible for them, particularly by way of obtaining grants and offering advice and support for Start-Up operations. We would hope to see an increase in population especially in the younger generation to secure increased numbers in our school, retain and increase teacher numbers, have enough players available to field our own football teams and have adequate numbers to support our local Rowing Club and other sporting organisations.
VIDCo is a totally voluntary group and members give of their time without remuneration in any way. We face many challenges in our efforts to make Valentia a better place and when UNESCO became a possibility, we embraced it with open arms. We believe the benefits of World Recognition once again for Valentia would be of tremendous benefit to the entire Island and far beyond. We have established a strong partnership with Kerry Co. Co., the Irish Government and the Government of Newfoundland and Labrador. Indeed, the project became a National one when it was put on the Irish Tentative List and the Government saw fit to send it on to Paris for UNESCO approval. UNESCO approval will not happen without the consent of the people of Valentia and UNESCO over the next number of years will seek to ascertain local approval as well as Site Authenticity, Outstanding Universal Value and other criteria. To keep everybody properly informed Kerry Co. Co. are advertising a full-time post for a coordinating officer who will be responsible for liaising with the people of the Island and different local groups.
Knightstown
The Valentia Cable Building is currently the only component of the ensemble currently submitted to UNESCO and VIDCo believes that there should be Planning Protection for the site to ensure that the world heritage application is successful. We support all development in Knightstown to include housing, commercial development, car parks and/or any other required infrastructure that would benefit the local community in line with the island's recent Socioeconomic Plan.
We believe Knightstown needs to be able to meet the demands of increased numbers visiting the Island with the Greenway already underway. The village needs to be commercially developed and planning must reflect this. There is an urgent need for more commercial outlets of all types in the village. We also call on Kerry Co. Co. to designate an area for Casual Trading as it has done in other towns around the county. There is a real likelihood that Knightstown is in danger of being called 'The village where you can't buy a cup of coffee'.
We realise that the Water Treatment Plant is at full capacity and that is preventing further housing and commercial development in Knightstown. Again, we believe there is enough goodwill at the central government level to fast-track the necessary finance to expand this plant. VIDCo will use all its influence to bring this to fruition.
VIDCo believes that, once the funding for the water treatment plant is in place, the village boundaries need to be expanded to at least Batchelor's Walk, Glanleam Cross and beyond. Bachelor's Walk Road needs to be upgraded by widening the road and footpaths installed and continued to the Cable Station to complete the Three Roads Walk. This area should be zoned for Mixed Use to include housing. VIDCo has plans for a Digital Hub in the 28 rooms upstairs in The Cable Station as well as the Cable Experience Visitor Centre downstairs. It is expected that this will go to tender in early 2024. There is an urgent need for housing for the remote workers. We believe Remote Working will be the saviour of Rural Ireland and the Western Seaboard but without affordable housing, it will not happen.
VIDCo has purchased the Slate Yard and has plans to develop it into a Village Centre with proper landscaping. This will include the restoration of The First Message Building and its conversion to a Cable Museum with a small ticket office/tourist information office and coffee shop adjacent. We expect the Slate Yard to be a focal point of the Village with outdoor seating, tables and planting etc., a place that Valentia can be proud of.
It is vital that the infrastructure in Knightstown is upgraded to allow for the expansion and development of the local Royal Valentia Hotel. This would increase accommodation capacity and allow for more visitors to spend time and money in the area and boost the local economy.
Knightstown Marina
As a follow-up to the investment in the breakwater system at Knightstown Marina, we would like to get this project re-introduced on the Kerry Co. Co. list of priorities.
Reenard Point
We would like to see it as an objective on the LAP that the slipway at Reenard Point be repaired and expanded to facilitate and future-proof the Valentia Ferry operation which is an essential corridor to the island and necessary to facilitate the increased volume of visitors that will result from the greenway and potential UNESCO status.
Chapeltown
Chapeltown has been designated for light industry. VIDCo supports this and to this end, we are in the process of purchasing land on which we hope to develop an Industrial Site where we would build small industrial units to be leased to prospective clients somewhat similar to Dromid. We would hope that this would have the approval of Kerry Co. Co. and we ask the planning team to consider this in the LAP. We are also recommending that a recreation area/park should be planned in Chapeltown – we believe that this would enhance the quality of life of the Chapeltown community.
Affordable Housing
VIDCo acknowledges that the greatest need on the Island is Affordable Housing. One of Fionan Murphy's greatest constraints to expanding Murphy Marine is the lack of housing for his workers locally. Also, there is capacity for 18 jobs at Valentia Radio Station. Some are still vacant because of a lack of affordable housing and only one of the staff now lives on Valentia. To provide Affordable Housing VIDCO is in the process of acquiring a site on the outskirts of Chapeltown. We would like to see the boundary of Chapeltown Village extended on all roads and Residential Planning be allowed. Kerry Co. Co. purchased a site for a Water Treatment Plant for Chapeltown over 25 years ago. We believe this could be developed as ICW (Integrated Constructed Wetlands) to serve the village, at a reasonable cost and, yes, UNESCO Designation can be used as a means of raising the required capital from the Central Government for this.
Valentia Lighthouse
Valentia Lighthouse is one of the main visitor attractions on the island with a major impact on the local economy, drawing in excess of 20k visitors every year. The road to Valentia Lighthouse has been eroded and undermined by sea storms and now there is a serious danger of the lighthouse becoming totally cut off. There is an urgent need for the road and car park to be repaired.
Heritage sensitive areas
VIDCo is aware of the UNESCO stipulation for a protected zone around industrial world heritage sites. The Valentia sites are required to comply with UNESCO criteria but it is our firm understanding that development will be permitted within these areas as stated by the Kerry Co. Co. planning department. We, however, submit that these "sensitive heritage areas" be kept to an absolute minimum and that the area around Foilhommerum, and the land area indicated across the channel to Portmagee, be removed from the Local Area Plan, These areas are already protected as Heritage Sites and Special Areas of Conservation. We believe in the long-term positive impact of the UNESCO designation as a key element for the future development of the local community. The progression of the UNESCO project in the future will secure funding for the refurbishment of the Cable Station and the development of a digital hub that would enable remote working and services to the community. We believe that strategic development around the UNESCO designation and the Greenway will leverage funding for infrastructural development, housing and recreation areas to be developed on the island.
Valentia Island Development Company C.L.G.
31st October 2023
If you want to support us or have your say about the future of Valentia, please register and make your own submission HERE. The last day for submissions is the 3rd of November 2023.

August 17, 2023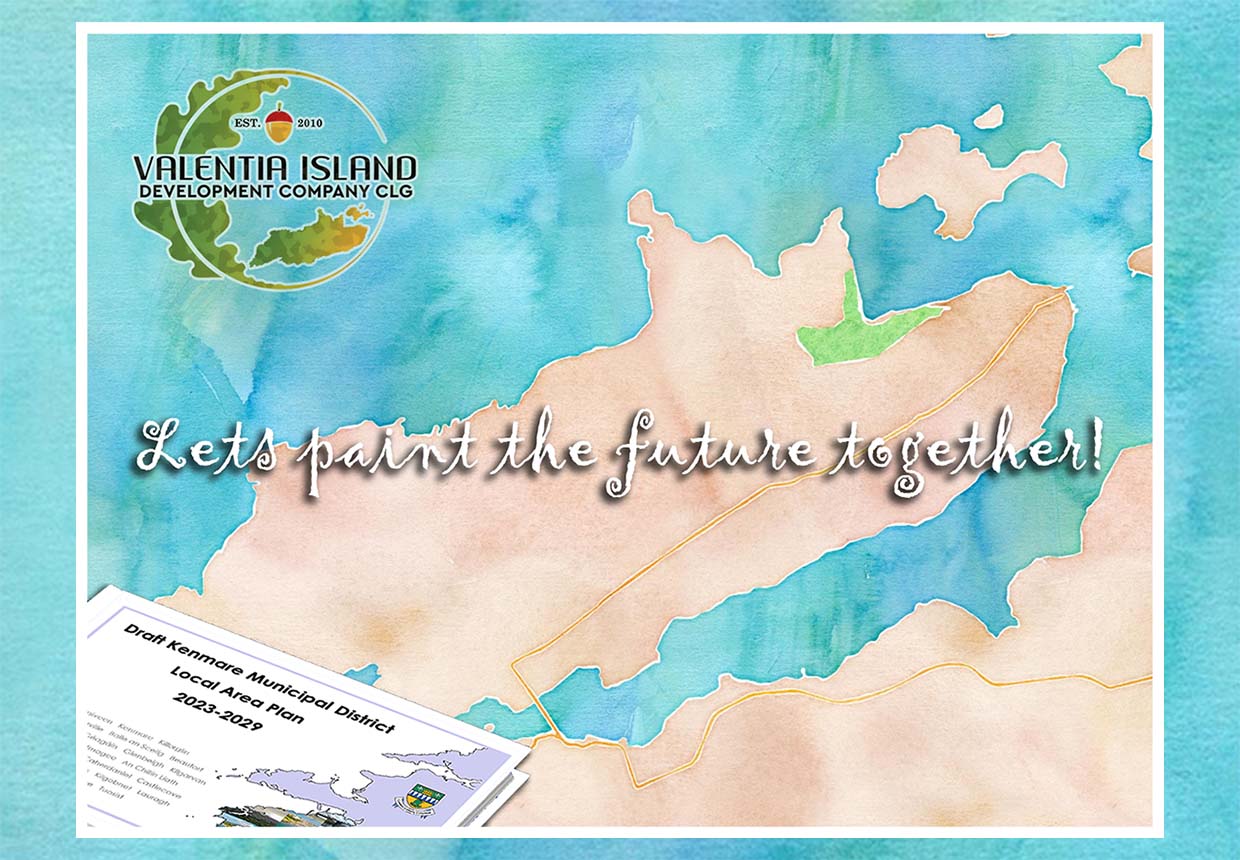 October 31, 2023